Tobias (トビアス; Τοβίας) is a fictional character in Howl of Gray Wolf.
About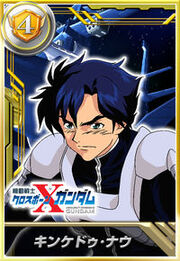 With a handsome, dignified appearance, Tobias is a blue-haired man with a quiet, but gentle temperament and strong emotional intelligence. In his early twenties. On the Islands, he is the considered the Next Age Hero and a leading figure of the Chimeía Tribe. The Zan Shiranui is his closest partner, and has deep faith that he can defeat Ragnoroks.
Creation/Idea
For motif, MGW considered Kincaid Nau from Gundam series.
Monsters
Main article: Shiranui
Shiranui (Purebreed Zan)
Power
B
Speed
A
Stamina (lifebar, defense)
D
Mind/Spirit (Intel, energy power)
C
INFO: Zan is said to be the human's answers to a "perfect battle machine".
Relationships
Has the closest bond to this monster, even if it's a machine. Even if Shiranui is programmed, there seems to be a deeper connection.
An enemy to the Islanders, Tobias wants to challenge him.
Meets Gray and shows him around the Islands after Shiranui challenges him.
Gadamon is jealous of Tobias and wants to be acknowledged by Shiranui.
References/Links