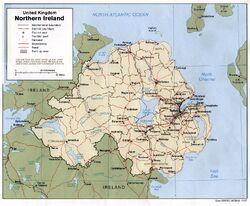 Derived from Northern Ireland, The Troubles were decades of civil fighting between the Unionists and the Loyalists. The kingdom of Ireland is split as two nations: Republic of Ireland and Northern Ireland. The latter is a constituent country of the United Kingdom.
Unionists and Loyalists
Unionists believed in an ideology called Ulster Loyalism, which are for North Ireland as an independent state. The loyalists wants an independent "United Ireland" as a republic. United Ireland is supported by the republicans.
Background Overview
Since the 17th century, there has been a sectarian divide between Catholic community and the Protestant community. In the 1960s, the Protestants made up the majority of Northern Ireland and they monopolized their power within the local government. As the Catholics were the minority, they were discriminated.
More later.
MGW Works appearing
Mentioned; the cause of Aiden Christie's move to America.
Links