SPOILERS WARNING!
This article contains information that is recently revealed in either published OR pre-published content. The latter means that the author jumps ahead to show the info without integrating it in the story yet.
Continue reading at your own risk.
Mastergraywolf 23:56, January 3, 2012 (UTC)

Gawain (ガウェイン) is an antagonist in Tiger of Freedom.
About
Named after one of the Knights of the Round Table, Gawain was the independent and affable right-hand to one of the Dark Warriors. Despite being casual and mocking, he was said to be very dangerous. He was chosen for his intense loyalty and ability. He may maintain his character and role in the remake.
In Video Games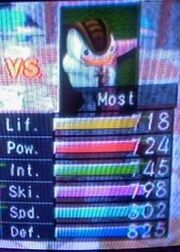 A White Mocchi is one of the special breeds from Monster Rancher 2 where the sub-type is unknown. In Japan, it is called "Shiro Mocchi" (シロモッチー), which has the same meaning. In the Legends Cup, which is the the last competition after the Major 4, you fight a White Mocchi named Most. To be expected, it is a very formidable opponent. Its best stats, defense and speed, range in the 800s, and the rest range in the 700s. Second best stat is accuracy.
English Card

"It has changed the color of its skin in order to be conspicuous."
Japanese Card

Unknown
In Anime[1]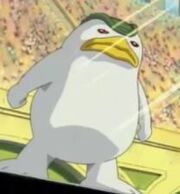 Most (モスト; mosuto) the White Mocchi appears in season 3; in Japan, it is the second season called "Legendary Path" (伝説への道) It is the 71st episode called Legend Cup: Mocchi vs Most (レジェンド杯 モッチーVSモスト); 23rd episode of Season 2. In Japan, Most is voiced by Naitō Ryō (内藤玲); in English version, Terry Klassen. Calm and collected, Most was incredibly strong and has the title "Legendary White Mossama" (伝説の白もっさま; densetsu no shiro mossama). Therefore, he excels in speed and power, having defeated Golem, Zuum, Hare, and Gaboo class monsters. The Mossama (もっさま) is the Japanese technique for Giant Press, a power move.
Skills and Battle Data
Power: B
Speed: A
Stamina (lifebar, defense): A
Mind/Spirit (Intel, energy power): A
Techniques
Physical Attacks
Spirit/Intelligence Attacks
Relationships
Trivia
Most's Japanese CV, Naito Ryo, voiced Matsuda Toma from DEATH NOTE, and Joushima Ken from Hitman REBORN. Also, Akajima Taika from Assassination Classroom.
References